🔥 Luxurious residence in the city of Alanya, in the Turkler area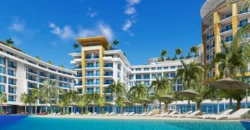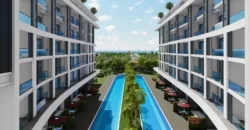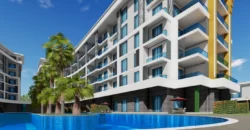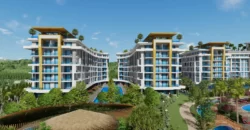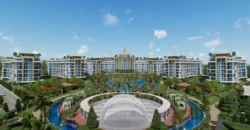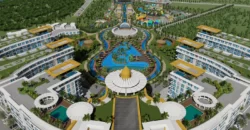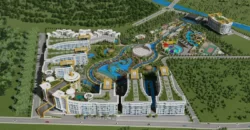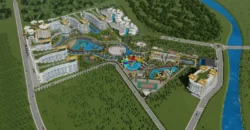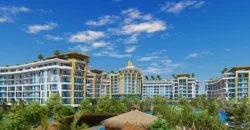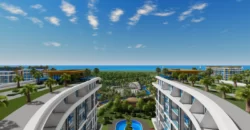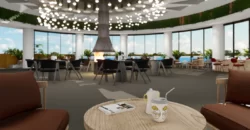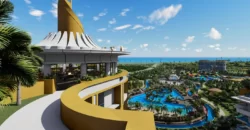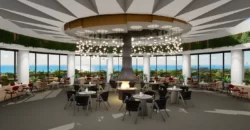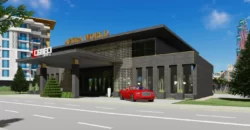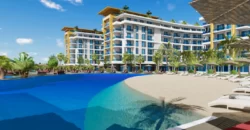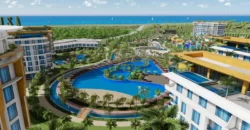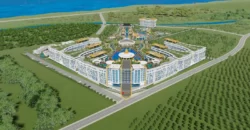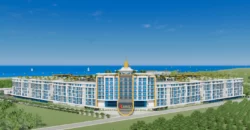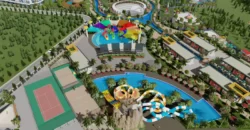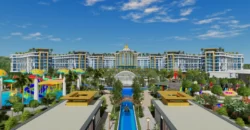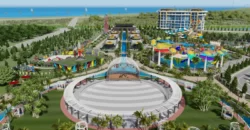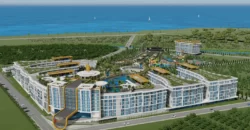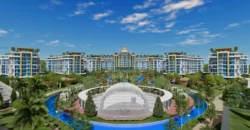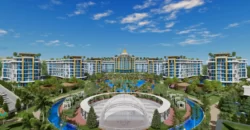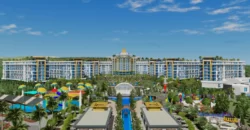 Description
The new Azura World Residence and Hotel Project with private beach for sale
AZURA WORLD RESIDENCE & HOTEL
THE PROJECT
Azura World, the largest Residence & Hotel & Entertainment concept project in Turkey, in the most beautiful place of Alanya, on its own land and resources, becomes the iconic project as a result of 40 years of experience of Cebeci Group A.Ş.
Located in one of the best locations around the Mediterranean, surrounded by orange groves and the coast, here comes Azura World.
We are pleased to bring a new beauty to Alanya with its extravagant facades and aesthetic interiors. Kitchens, bathrooms, living rooms, bedrooms, walkways and even the private beach – every single part of the project has been designed to make your living space full of comfort and joy. Hundreds of different facilities await you in Azura World.
A four-season vacation at Azura World, stretching blue to the sea, is the star of the lifestyle of the new generation of residences, hotels and entertainment centers!
Azura World transforms small details into great elegance and invites you and your family to live a life of privilege. Discover your best version of holidays on the Mediterranean coast, just a few minutes' walk from the sea.
ABOVE
Azura World Residence & Hotel, located on the west side of Alanya, on an area of ​​76,000 m² surrounded by orange gardens.
Noend summer within a 4 season vacation in a place of a lifetime investment. Suitable for the needs of every family: 1+1, 2+1, 3+1, 4+1, 5+1 apartments and penthouse residences, townhouses, villas with private pools and a 5-star hotel – everything in Azura World opens the doors to a dream life.
Indeed a right place for a profitable investment. Buying a property in the first phase of construction can increase your funds by up to 30% by the time the project is completed.
RESIDENCE
Cebeci Group offers you the
largest apartments in the region, including balcony from 20 m², living room from 28 m².
"XL" type elevated apartments have an additional room with a separate bathroom that can be used as another bedroom, study, playroom or dressing room.
The ground floor apartments have a private garden and direct access to the pool, giving a feeling of living in the house.
TOWNHOUSES & VILLAS
The only argument that can be added to the definition of luxury is quality. For this reason, further Azura World Residence & hotel units were designed to meet the highest demands.
Each villa has its own private garden and swimming pool.
PRESIDENTIAL VILLA
Prezident Villa was designed to meet the most exclusive desires of our guests. The building has its own indoor and outdoor pool,
Cinema, lounge and many other luxuries
Features that exude a sense of royal comfort.
SOCIAL ACTIVITIES
The facilities of the Azura World Residence & Hotel project are not only designed for the enjoyment of the residence members, but also offer our guests a sophisticated cultural experience.
Amenities at the exclusive Azura World complex include:
artificial beach
shared swimming pool
relaxation pool (+16)
private pool for ladies
Rooftop swimming pool
entertainment place
canal (550m)
kindergarten
superhero park
children's playground
Children's Aqua Park
Aqua park for adults
Open air shopping street
volleyball court
basketball court
tennis court
skate park
Open-air sports fields
yoga areas
pool bar
Karaoke bar and disco
hiking areas
Racetrack
Lunapark kids
train
rink
Cinema in the open air
prayer room
TOTAL AREA
76,000 sqm
1+1, 2+1, 3+1, 4+1, 5+1 LUXURY APARTMENTS
2+1 TOWNHOUSES
5+1 VILLAS WITH PRIVATE POOL
6+1 PRESIDENTIAL VILLA
START OF CONSTRUCTION: 01/30/2022
END OF CONSTRUCTION: 05/30/2024
20,000 M2 "GREEN AREA"
Orange plantations, hiking area
garden, trees, lawn
15,000 M2 BUILDING AREA
Main building of the hotel
Apartments, villas, townhouses
sales office
41000m2
OPEN AIR, SPORT
AND WATER FACILITIES:
Aqua park for adults
Children's aqua park, cafe, sports fields
TOTAL AREA OF PROJECT FACILITIES:
Swimming pool, amusement park
boutiques, playgrounds
AZURA WORLD HOTEL
"A LA CARTE" CONCEPT
The 5-star Hotel Azura World is an exclusive resort that meets all modern high quality standards.
The multifaceted facilities of the project include: indoor and outdoor pools, restaurants with 4 different world cuisines, SPA, fitness and a luxurious rooftop lounge restaurant with stunning sea views.
Ladies-only spa and outdoor pool.
GROUND FLOOR
Coffee shop
A la carte restaurant – 2 units
entertainment and games room
Internet cafe
Cinema
meeting room
Function room – 3 units
Oriental corner
Family concept private
VIP hammam – 4 units
SPA FACILITIES
The facilities of the Azura World Residence & Hotel project are not only designed for the enjoyment of residents, but also offer our guests a sophisticated luxury vacation experience.
SHARED SPA
Hairdresser, reception, vitamin bars
Fitness, changing room, hammam
Indoor pool, salt room, sauna
steam room
Massage room – 10 units
rest room
private hammam, sauna, steam room for women.
VIP SPA
reception
Beauty salon
vitamin bar
Peeling room – 2 units
VIP scrub room – 2 units
hammam
salt room
sauna
steam room
prayer room
changing room
rest room
Massage room – 11 units
indoor pool for children
children's playground
indoor pool
fitness
The 5-star Hotel Azura World is an exclusive resort that meets all modern high quality standards.
HOTEL PUBLIC FACILITIES
Business room – 2 units
Study – 2 units
Sales departments – 2 units
Rooftop lounge
RESIDENCE
We are ready to offer luxury apartments in Azura Wolrd Residence & Hotel project for those who really enjoy the seaside lifestyle.
The project consists of 7 blocks consisting of 656 apartments in total. Available flat types:
1+1, 2+1, 3+1, 4+1 and 5+1, between 72 and 366 square meters.
Hotel and residence facilities have separate access for residence members and hotel guests.
WATER PARK
The project offers its future residents multiple options for outdoor activities for both adults and children.
Azura World is not just a place to live, it is a project with a vibrant and diverse infrastructure.
Aquapark zones are divided into: children and adults. There will also be a cafeteria on site.
The adjacent area is reserved as a sports field for ball enthusiasts.
AMUSEMENT PARK & KINDERGARTEN
The world of Azura is a special place. And every detail of this project has been made with the expectation that future residency members will have access to whatever they desire.
The project will have its own amusement park with playgrounds. Dormitory residents always have an opportunity to entertain their children and enjoy themselves.
Another special feature is a kindergarten. This is undoubtedly a significant bonus for large families with children. Children should be close by and taken care of at the same time.
POSITION
The project is located at a distance of 15 km from downtown Alanya, in the "Turkler" district, which is known for its luxury 5-star hotels. An idyllic location within walking distance to the sea, with a privileged architecture, a seductive blend of the naturalness of the orange scent and five-star comfort.
"Turkler" is a newly emerging district. Far from the noise of the city, the area is surrounded by gardens and mountains to the north and a blue sea to the south.
ALANYA DOWNTOWN
15 km
OLD TOWN OF SIDE
40KM
ANTALYA AIRPORT
110KM
GAZİPAŞA AIRPORT
60KM
MAHMUTLAR DOWNTOWN
30KM
PRIVATE BEACH
A holiday in Turkey without the coast is hard to imagine.
Azura World – a project located 300m from its own private beach.
There are 2 ways to reach the beach: a pleasant 5-minute walk or a shuttle bus that regularly takes guests to a private beach, as an exclusive option for residence members.
Property ID

AL0116

Price

260,000€

Property Type

Apartments, Invest, Villas

Property status

For Sale

Rooms

1

Bedrooms

1

Size85 m2
Label

Turkish Citizenship